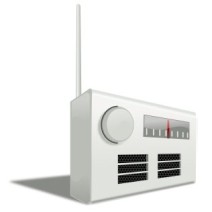 If you want to know what's on the radio in Russia now, just listen to free Russian radio stations online. Listening to the Russian radio is also a great way to improve your Russian.
This is a selection of some popular radio stations in Russia that broadcast not only music but also news, talk shows and programs on various topics. Just choose a radio station according to your interests and the knowledge of the Russian language.
Radio Europa Plus
(Russian: Европа плюc)
This radio station is very popular in Russia. It plays current Russian and international hits. There are six channels:
Europa plus
Dance
Top40
Свежее / Fresh stuff
R&B
Poprock
Listen to radio Europa Plus online
Russian Radio
(Russian: Руccкое Радио)
In Russian, the name of the radio station is pronounced like [rússkaye rádio]. It plays only Russian music and is the best choice for everyone who wants to listen to old and modern Russian music. There are following channels:
Русское Радио / Russian Radio: Pop-Music, latest Hits and brief news bulletins
Русское Кино / Russian Cinema: Songs and soundtracks from Sowjet and Russian movies
Золотой Граммофон / Golden Gramophone: Weekly Hit Parade of the Russian Radio
Русский рок / Russian Rock: Russian legends of Rock and their most popular hits from the 1980s till now.
Высоцкий / Vysotsky: Songs of the Russian iconic songwriter and singer Vladimir Vysotsky (1938-1980).
Детский канал / Children's channel: Songs from cartoons, kids Movies as well as from radio dramas.
Listen to the Russian Radio online
Advertisement
Online Radio 101.RU
(Russian: Онлайн радио 101.RU)
101.RU is a web based radio station. It sees itself as a virtual city where the users are free to listen to whatever they like. There are over 100 channels, the content being constantly updated.
On the web page of the Online Radio 101.RU it is possible to sort the channels by different criteria like "The best", "According to taste" or "New". One can listen to Russian Rock, Dance- and Pop-music, chansons, music of the USSR, Jazz, Blues, Rap, Hits of the 80s or 90s, humor, etc.
Radio Hit Fm
(Russian: Радиостанция Хит FM)
The radio station Hit fm plays popular international and Russian hits at a ratio of 50:50. The following channels are available:
ХИТ FM: Latest hits and pop songs charts from all over the world
ХИТ FM Dance: Dance music that makes feel good
ХИТ FM 90-е: Russian and international hits from 1990 to 1999
ХИТ FM Романтика (Romantic): Greatest romantic songs and ballads of the last 20 years
ХИТ FM 2000-е: Top singles of the 21st century
Urban: Best R&B, Hip-Hop und Rap singles of all time.
Mixer: Club House of the Russian DJ Kirillov: well-known hits and new songs.
Radio of Russia
(Russian: Радио Роccии)
This radio station offers a wide selection of programs: news, politics, education, culture and sport. Russian books are also read out here. It also features special theatre and music shows. Right under the bar "Прямой эфир" (Russian for "live broadcast") one can choose from the following channels:
Гости эфира / Radio Guests
Армия / Army
Авто / Car
Про деньги / About Money
Общество / Society
Культура / Culture
История / History
Здоровье / Health
Listen to Radio of Russia online
Moscow's speaking
(Russian: Говорит Москва)
In Russian, the name of the radio station is pronounced like [gavarít maskvá]. It covers news of the Russian capital. Apart from different kinds of reports about Moscow life, the station also offers a radio theatre, a talk-show as well as cultural, music and children's programs. There is live audio and video streaming.
Listen to the radio Moscow's speaking online