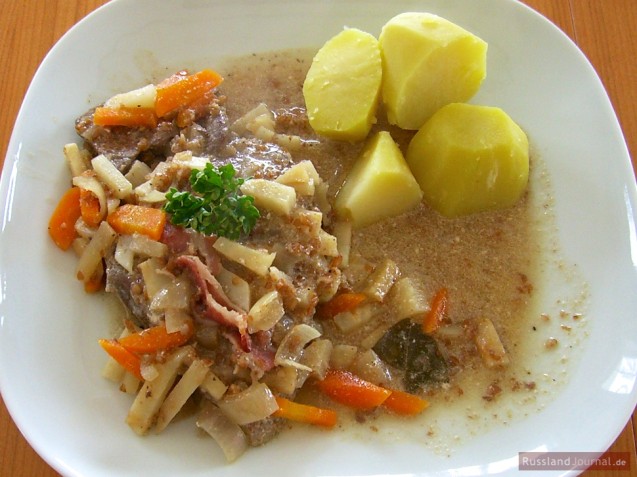 The Russian roast beef is traditionally stewed in a clay pot in the oven. It is often recommended to sear the meat first in order to get a nice crust. It makes the meat really juicy and tasty. The selection of vegetables can vary according to season and mood. In Russia, root vegetables such as carrots and celery are quite common. Whole grain rye bread used in this recipe gives the dish a special flavor. Potatoes can be served separately or braised with meat in the oven.

Advertisement
Ingredients

| | |
| --- | --- |
| 600-800 g (=1.3-1.7 lb) | beef |
| 3 | onions |
| 1 | carrot |
| 1 | celery (root) |
| 2 slices | rye bread |
| 150 g (=5.3 oz) | bacon |
| 50 g (=3.5 tbsp) | butter |
| 500 ml (=2.2 cups) | stock |
| 100 ml (=0.4 cup) | sour cream |
| 4-6 | potatoes |
| | peppercorns, bay leaves |
| | flour, salt |
| | fresh parsley |
Directions
Cut beef into slices, season with salt, dredge in flour and sear on both sides until a nice brown crust forms.
Finely chop onions, carrot and celery.
Cut bread into small pieces and combine with vegetables. Add bay leaf, peppercorns and season with salt.
Line bottom of a casserole dish with bacon slices. Layer some meat, follow with a layer of vegetable-bread mixture. Repeat. Pour stock into the casserole dish, just enough to cover the second meat layer, no more. The whole thing shouldn't swim! Bring to low boil over medium heat and take off heat.
Preheat oven to 100C/212F, cover and bake for about two hours. Add sour cream and bake for another half an hour. Sprinkle with parsley shortly before serving.
Peel and boil potatoes. Serve as side dish.
The following variation is especially popular in Russia on special occasions:
Prepare and serve beef stew in small clay pots. In this case cook potatoes in the pots together with the rest. In Russia, they usually take a set of clay pots with a lid with a capacity of approx. 500 ml (0,52 Quarts). This way the portions don't get too big. When choosing a clay pot, it is important to make sure that the walls are of uniform thickness and that the glaze is not damaged.
This beef stew is often cooked for different celebrations, for example for Easter.
Russian recipes
Salads and Appetizers
Recipes for Russian salads, Mushroom Caviar, Russian eggs, etc.
Soups and stews
Borsch, Solyanka, Shchi and more recipes.
Main Dishes
Recipes for Russian pancakes (bliny), pelmeni, fish and meat recipes.
Grilling and BBQ
Shashlik recipes for Caucasian style barbecue.
Baking
Recipes for Russian pierogi, Vatrushki, an apple pie and cakes
Drinks
Recipes for Kwaß and Cranberry Water with Honey
Russian cuisine
Cabbage - cooking tipps and recipes.
Russian Easter Feast - Russian Easter recipes