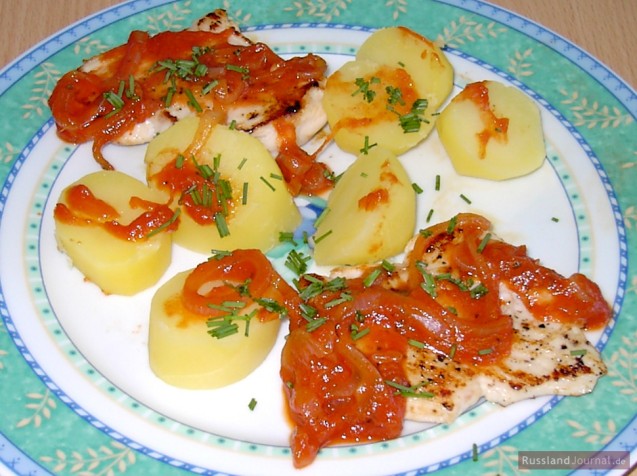 Fish in tomato sauce is very popular in Russia, fresh as well as canned. With this simple recipe, even most inexperienced cooks can prepare a delicious and healthy dish in minutes. Use saltwater or freshwater fish depending on taste.
Ingredients

| | |
| --- | --- |
| 400 g (= 14 oz) | fish fillets |
| 400 g (= 14 oz) | tomatoes |
| 1 | big onion |
| 4 tbsp | oil |
| | salt, pepper |
Directions
Advertisement
Wash fish fillets and rub with salt and pepper.
Heat 2 tbsp of oil in a pan. Cook fish fillets on both sides and set aside.
Finely chop onions. Heat the rest of oil in the pan and sauté onions until translucent.
Peell tomatos, cut coarsely and sauté together with onions for another 5-10 minutes.
Put fish fillets into the pan and sauté for about 5 minutes.
Serve with potatoes, rice or pasta.
Fish in tomato sauce is also tasty as a salad. To serve as a salad allow fish and tomato sauce to cool, combine with rice, potatoes or pasta.
Russian recipes
Salads and Appetizers
Recipes for Russian salads, Mushroom Caviar, Russian eggs, etc.
Soups and stews
Borsch, Solyanka, Shchi and more recipes.
Main Dishes
Recipes for Russian pancakes (bliny), pelmeni, fish and meat recipes.
Grilling and BBQ
Shashlik recipes for Caucasian style barbecue.
Baking
Recipes for Russian pierogi, Vatrushki, an apple pie and cakes
Drinks
Recipes for Kwaß and Cranberry Water with Honey
Russian cuisine
Cabbage - cooking tipps and recipes.
Russian Easter Feast - Russian Easter recipes