Omelet with Herbs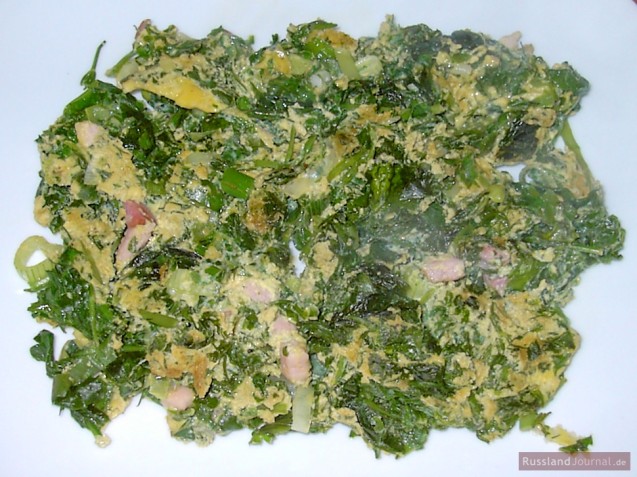 This simple and healthy omelet can be prepared just in few minutes. In summer, the Russians usually pick fresh herbs from the garden of their country house dacha. One can also use wild herbs such as bear's garlic, stinging nettle or dandelion. This omelet is rich in vitamins, provides valuable egg proteins and satisfies your appetite.
Ingredients (serves 4)

| | |
| --- | --- |
| 5 | eggs |
| 1 bunch | parsley, dill and bear's garlic (each) |
| 1/2 bunch | green (spring) onions |
| 200 g (=7 oz) | spinach |
| 80 g (=3 oz) | bacon pieces |
| 1 tbsp | vegetable oil |
| | salt, pepper |
Advertisement
Directions
Wash and finely chop herbs.
Heat oil in a pan. Fry bacon pieces until crisp. Add herbs and sauté shortly until tender but still green.
Beat eggs well. Season with salt and pepper.
Stir beaten eggs into the pan and fry over low heat. Flip carefully and cook the other side. The omelet should still be green.
It is also possible to use other fresh herbs.
Russian recipes
Salads and Appetizers
Recipes for Russian salads, Mushroom Caviar, Russian eggs, etc.
Soups and stews
Borsch, Solyanka, Shchi and more recipes.
Main Dishes
Recipes for Russian pancakes (bliny), pelmeni, fish and meat recipes.
Grilling and BBQ
Shashlik recipes for Caucasian style barbecue.
Baking
Recipes for Russian pierogi, Vatrushki, an apple pie and cakes
Drinks
Recipes for Kwaß and Cranberry Water with Honey
Russian cuisine
Cabbage – cooking tipps and recipes.
Russian Easter Feast – Russian Easter recipes