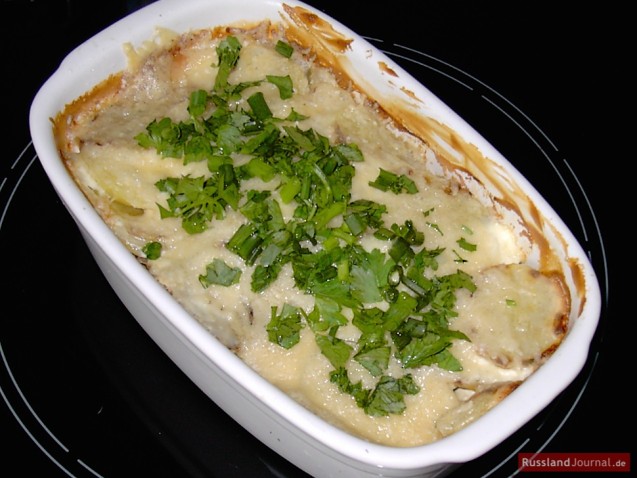 Advertisement
Oven-baked dishes are very typical for Russian cuisine. Potato was brought to Russia in the 18th century. Initially, the foreign vegetable was totally rejected by Russian farmers who called it "Devil's apple". With time, people learnt to grow and cook the versatile tuber and potato became one of the most important vegetables in Russia. This casserole recipe combines potato with typical Russian ingredients like mushrooms and sour cream.
Ingredients (serves 4)

| | |
| --- | --- |
| 6 | potatoes (middle size) |
| 300 g (=10.5 oz) | mushrooms |
| 3 tbsp | grated cheese |
| 4 tbsp | sour cream |
| | dill, parsley |
| | salt, pepper |
| 3 tbsp | oil (sunflower oil suggested) |
Directions
Peel potatoes and cut into slices. Heat oil in a pan, fry potato slices until golden brown.
Clean and finely chop mushrooms.
Grease a casserole dish. Line bottom with half of potatoes, follow with a layer of mushrooms and cover with the rest of potatoes. Top with sour cream and cheese.
Bake in pre-heated oven at 180C/356F for about 30 minutes. Sprinkle with fresh herbs before serving.
Russian recipes
Salads and Appetizers
Recipes for Russian salads, Mushroom Caviar, Russian eggs, etc.
Soups and stews
Borsch, Solyanka, Shchi and more recipes.
Main Dishes
Recipes for Russian pancakes (bliny), pelmeni, fish and meat recipes.
Grilling and BBQ
Shashlik recipes for Caucasian style barbecue.
Baking
Recipes for Russian pierogi, Vatrushki, an apple pie and cakes
Drinks
Recipes for Kwaß and Cranberry Water with Honey
Russian cuisine
Cabbage - cooking tipps and recipes.
Russian Easter Feast - Russian Easter recipes