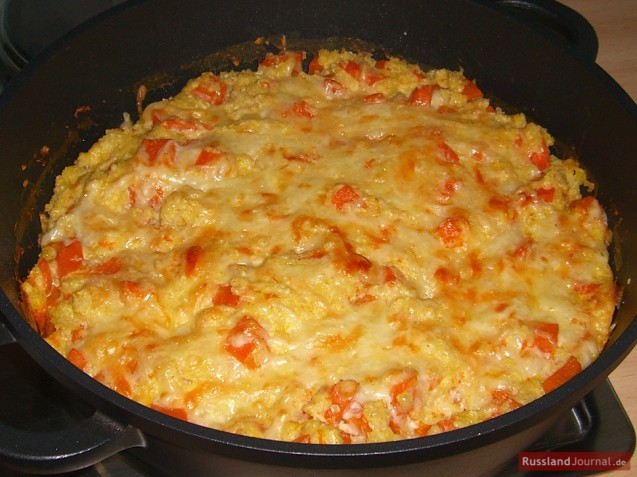 The tasty combination of pumpkin and millet is quite popular in Russian cuisine. In this modern Russian recipe, honey gives the pumpkin-and-millet dish a sweet and aromatic flavor. As a quick and low-fat variation, just make millet porridge and add pumpkin peaces.
Ingredients

| | |
| --- | --- |
| 500 g (=1.1 lb) | pumpkin |
| 200 g (=1 cup) | millet |
| 2 | eggs |
| 50 g (=3.5 tbsp) | butter |
| 500 ml (=2 cups) | milk |
| | cheese (optional) |
| | honey |
| | salt |
Directions
Advertisement
Peel pumpkin, remove seeds and cut into 2 cm (app. 1 inch) chunks.
Preheat a pan (or a casserole dish). Simmer pumpkin in butter over medium heat for about 20 minutes until it starts getting tender.
Wash millet in warm water. Finally pour hot water over it to prevent millet from getting bitter.
Bring 400 ml (app. 2 cups) water to boil, add some salt and simmer millet for about 10 minutes until half-ready. Skim off any scum that may form.
Pour milk over the pumpkin, boil shortly, add millet and mix. Season with salt to taste.
Preheat oven to 130C/270F, cover and bake for about half an hour.
Beat the eggs and stir in the pumpkin-millet-mixture. Top with grated cheese and bake at app. 200C/390F for another 10 minutes until cheese is light brown.
Arrange pumpkin-millet-gratin on serving plates, sprinkle with honey to taste. Melted butter can be served as a sauce separately.
For special occasions: Stir eggs in the pumpkin-millet-mixture (step 7) and fill in an empty pumpkin. Top with grated cheese and bake until cheese is light brown. Serve in the pumpkin.
Russian recipes
Salads and Appetizers
Recipes for Russian salads, Mushroom Caviar, Russian eggs, etc.
Soups and stews
Borsch, Solyanka, Shchi and more recipes.
Main Dishes
Recipes for Russian pancakes (bliny), pelmeni, fish and meat recipes.
Grilling and BBQ
Shashlik recipes for Caucasian style barbecue.
Baking
Recipes for Russian pierogi, Vatrushki, an apple pie and cakes
Drinks
Recipes for Kwaß and Cranberry Water with Honey
Russian cuisine
Cabbage - cooking tipps and recipes.
Russian Easter Feast - Russian Easter recipes