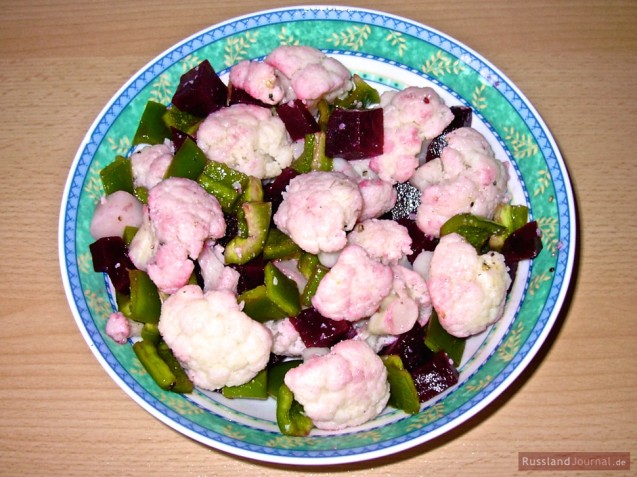 This low-calorie and vitamin-packed salad is made of cauliflower, beets and peppers and can be served as an appetizer or as an accompaniment to meat. The cauliflower is easy to digest and should not be cooked longer than 8-10 minutes. This way, it remains crisp and full of vitamins.
Ingredients

| | |
| --- | --- |
| 1 | small cauliflower |
| 2 | yellow bell pepper |
| 1 | beet (cooked) |
| 2 tbsp | vinegar |
| 1 tbsp | oil |
| | salt, pepper |
Advertisement
Directions
Chop cauliflower into small florets and cook in boiling water for 10-15 minutes until crisp-tender.
Cut bell pepper and beet into larger pieces.
Blend together oil, vinegar, salt and pepper.
Drain the cauliflower, put in a big bowl, add bell pepper, beet and dressing and mix gently.
Let stand at least half an hour before serving.
Tips:
Cauliflower stays white if cooked in boiling water with some milk.
It is better to cook cauliflower in a stainless steel pot as it might turn grey if cooked in an aluminium pot.
Russian recipes
Salads and Appetizers
Recipes for Russian salads, Mushroom Caviar, Russian eggs, etc.
Soups and stews
Borsch, Solyanka, Shchi and more recipes.
Main Dishes
Recipes for Russian pancakes (bliny), pelmeni, fish and meat recipes.
Grilling and BBQ
Shashlik recipes for Caucasian style barbecue.
Baking
Recipes for Russian pierogi, Vatrushki, an apple pie and cakes
Drinks
Recipes for Kwaß and Cranberry Water with Honey
Russian cuisine
Cabbage - cooking tipps and recipes.
Russian Easter Feast - Russian Easter recipes