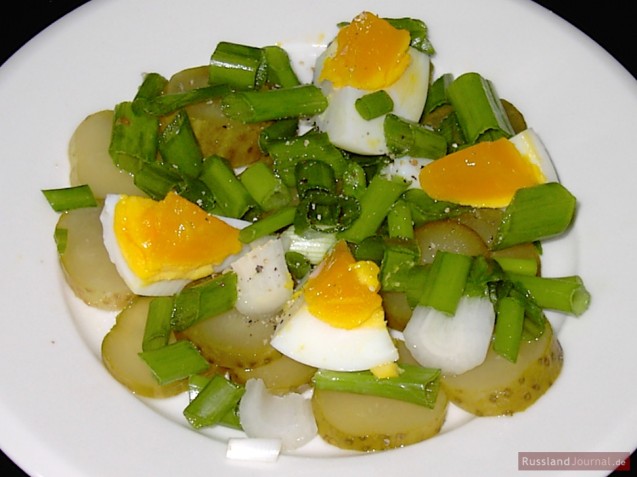 Ready in minutes, this salad can be served as a simple and delicious appetizer. A combination of pickled cucumbers and mustard make it a bit spicy. The Russians usually go for salted cucumbers. For someone who is not used to them, salted cucumbers can be a little bit strong in taste. It's best to serve it with fresh hearty black bread with butter.
Ingredients

| | |
| --- | --- |
| 2 | hard boiled eggs |
| 4 | pickled cucumbers |
| 3 stalks | green (spring) onion |
| 1 bunch | fresh herbs |
| 2 tsp | mustard |
| 2 tbsp | mayonnaise |
Advertisement
Directions
Hard boil the eggs. Remove the shell and separate egg whites from egg yolks. Finely chop egg whites.
Clean and chop green onions. Slice picked cucumbers thinly.
Blend together mayonnaise and mustard. Combine the dressing with egg whites, chopped onions and cucumber slices.
Before serving crumble egg yolks over the salad and sprinkle with fresh herbs.
Russian recipes
Salads and Appetizers
Recipes for Russian salads, Mushroom Caviar, Russian eggs, etc.
Soups and stews
Borsch, Solyanka, Shchi and more recipes.
Main Dishes
Recipes for Russian pancakes (bliny), pelmeni, fish and meat recipes.
Grilling and BBQ
Shashlik recipes for Caucasian style barbecue.
Baking
Recipes for Russian pierogi, Vatrushki, an apple pie and cakes
Drinks
Recipes for Kwaß and Cranberry Water with Honey
Russian cuisine
Cabbage - cooking tipps and recipes.
Russian Easter Feast - Russian Easter recipes