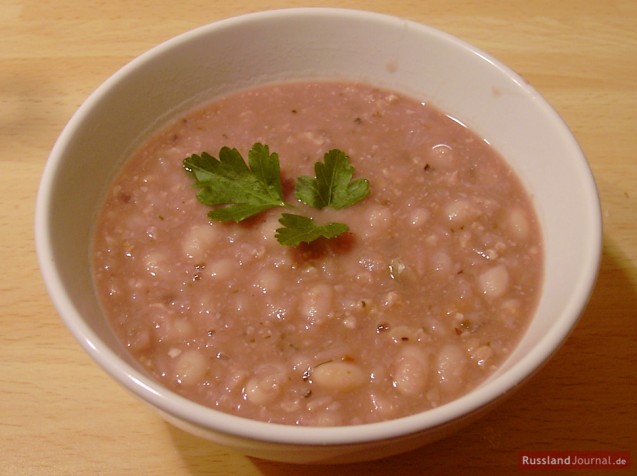 This warming and hearty white bean soup made with walnuts is packed with nutrients and helps survive long Russian winters. This tasty soup is also a good source plant protein.
Ingredients (serves 6)

| | |
| --- | --- |
| 500 g (=2.5 cups) | white beans |
| 2 | onions |
| 100 g (=3.5 oz) | walnuts |
| 1 tbsp | flour |
| 75-100 g (=3-3.5 oz) | butter |
| | salt, thyme, coriander |
Directions
Advertisement
Soak beans in cold water for about 10-12 hours. Drain, add fresh cold water, bring to boil and simmer for about one and a half hours on low heat. Season with salt only after the beans are ready!
Mash approximately one cup of cooked beans in a bowl until smooth. Put mashed beans back into the pan.
Peel and finely chop the onions.
Melt butter in a pan, sauté onions until translucent and stir in flour.
Crush walnuts in a mortar. Season to taste with thyme and/or coriander.
Add onions and walnuts to the beans. Simmer the soup for another 10 minutes.
Tip:
Serve with roasted or toasted baguette slices.
Russian recipes
Salads and Appetizers
Recipes for Russian salads, Mushroom Caviar, Russian eggs, etc.
Soups and stews
Borsch, Solyanka, Shchi and more recipes.
Main Dishes
Recipes for Russian pancakes (bliny), pelmeni, fish and meat recipes.
Grilling and BBQ
Shashlik recipes for Caucasian style barbecue.
Baking
Recipes for Russian pierogi, Vatrushki, an apple pie and cakes
Drinks
Recipes for Kwaß and Cranberry Water with Honey
Russian cuisine
Cabbage - cooking tipps and recipes.
Russian Easter Feast - Russian Easter recipes