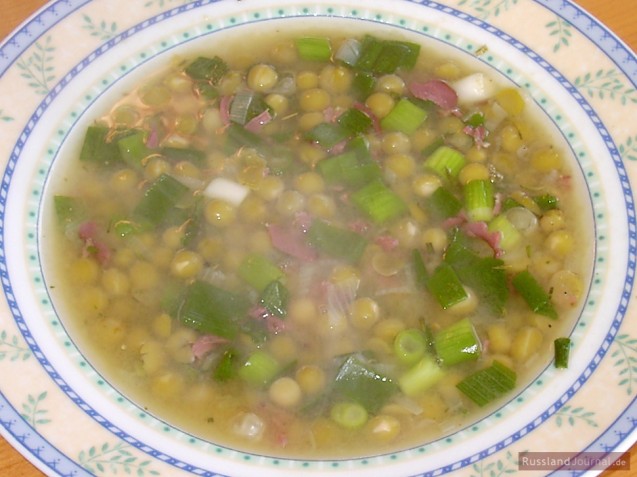 The pea soup is very popular in Russia. According to the Russian recipe, the pea soup is cooked with dried green peas and smoked meat, which gives it an intense spicy flavor. Unlike in other countries, the Russian pea soup is not pureed. The hearty pea soup is perfect on a cold winter day. To serve: Cut black bread into small slices, rub it with freshly squeezed garlic and roast in the oven or in a pan.
Ingredients (serves 6)

| | |
| --- | --- |
| 500 g (=1.1 lb) | smoked meat |
| 250 g (=1.2 cups) | peas |
| 200 g (=0.4 lb) | roots (carrots, celery, potatoes, etc.) |
| ½ bunch | green (spring) onion |
| 100 g (=3.5 oz) | bacon pieces |
| | salt, pepper |
Directions
Advertisement
Soak peas in cold water for 10-12 hours. Drain.
Bring 1.5 litre water to boil, add smoked meat, bring to boil again and reduce heat.
Add peas and simmer for about one and a half hours on low heat until peas are ready.
Clean and chop green onions.
Preheat a pan, fry bacon pieces until crisp. Add chopped green onions and sauté shortly.
Add bacon pieces and green onions to the soup and mix well. Season to taste with salt and pepper. Serve hot.
Russian recipes
Salads and Appetizers
Recipes for Russian salads, Mushroom Caviar, Russian eggs, etc.
Soups and stews
Borsch, Solyanka, Shchi and more recipes.
Main Dishes
Recipes for Russian pancakes (bliny), pelmeni, fish and meat recipes.
Grilling and BBQ
Shashlik recipes for Caucasian style barbecue.
Baking
Recipes for Russian pierogi, Vatrushki, an apple pie and cakes
Drinks
Recipes for Kwaß and Cranberry Water with Honey
Russian cuisine
Cabbage - cooking tipps and recipes.
Russian Easter Feast - Russian Easter recipes