Russia at the Eurovision Song Contest 2007 in Helsinki, Finland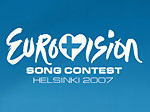 Pop trio Serebro from Russia finishes third in Helsinki with their Song#1 (207 points). The Russian girls are happy with the result and plan to start recording a new single soon. The winner is Marija Serifovic from Serbia with her ballad "Molitva" (268 points). Ukrainian drag queen Verka Serduchka with her funny performance called "Dancing Lasha Tumbai" took second place (235 points). The 52nd European Song Contest in Helsinki had a record 42 entries.
In Russian "Serebro" means 'silver' (russ.: Серебро). But the Russian girls were determined to give their all and go for gold at the Grand Prix in Helsinki on Mai 12, 2007.
The girls both look nice and sing well, decided a commission of experts in Russia in March. This decision was a big surprise not only for the new trio, but also for their experienced producer Maxim Fadeev.
Searching for young talents Fadeev found three girls who are, as he finds, a perfect match. Elena Temnikova convinced the producer by her performance in the casting show "Star Fabric 3". Olya Serebkina and Marina Lizorkina were totally unknown in Russia.
Song#1 is the first song of the band and was quite a success at the European Song Contest 2007.
In Athens 2006 Russia came second with Dima Bilan and his song Never Let You Go. That is why Russia was automatically qualified for the Final in Helsinki. Now Russia is qualified for the Final of the 53rd European Song Contest in Belgrade 2008.
The three 'silver' girls are:
Advertisement
Elena Temnikova (russ.: Елена Темникова), lead singer
Birthday: April, 18 1985
Birthplace: Kurgan, Russia
Engagements: Winner of numerous vocal competitions. Was among the finalists of the popular Russian casting show "Star Fabric-3" in 2003.
Marina Lizorkina (russ.: Марина Лизоркина)
Birthday: 1983
Birthplace: Moscow, Russia
Engagements: Used to sing in a choir, was lead singer of the band "Formula".
Education: Jazz and Pop Academy>
Olya Serebkina (russ.: Оля Серебкина)
Birthday: April, 12 1985
Birthplace: Moscow, Russia
Engagements: Professional ballroom dancer. Worked as a backing vocalist.
Education: School of Dramatic Arts, Department for Pop singing

Video: Serebro sings for Russia at the Eurovision Song Contest 2007
Song#1 of the Russian Girl-Band Serebro
It's a dirty money track, Yeah,
Girls kick the flow!
Listen to me
All my girls get ready
We'll make it easy
When I catch you picking me
You better get a chill
Boy, you wanna take on me
Coz I'm your killing pill
Can't you see the way I move
My dress my flashy skin
Listen up you know I got
The place you've never been
Slow down
Boy, you don't wanna let me down
You better stop you know what!
Refrain:
Oh! Don't call me funny bunny
I'll blow your money money
I'll get you to my bad ass
Spinning for you
Oh! I'll make it easy honey
I'll take your money yummy
I've got my bitches
Standing up next to me
---
(2x)
So come and check it
So come and check it
So come and check it
My bad ass spinning for you
Watch out!
Keep on taking over you
It's kinda getting free
Baby boy you know I still
Got sexy freak in me
Gotta tease you nasty guy
So take it don't be shy
Put your cherry on my cake
And taste my cherry pie
Refrain
During their concert tour in Krasnodar in June 2007, the hotel room of Serebro girls was robbed by burglers. Most of all the singers regret the loss of black dresses they were wearing at Eurovision Song Contest. For the trio, the dresses were kind of a talisman. Along with personal belongings, thefts stole two digital cameras that the girls used to capture best moments of their Maldives holidays. Among the photos are some revealing ones made during a moonlight swim. Now the Russian girls worry that the pictures might appear on the Internet.
Russia at the Eurovision Song Contest
2009 Moscow: Anastasia Prichodko – Mamo – Place 11
2008 Belgrade: Dima Bilan - Believe - the Winner
2007 Helsinki: Serebro – Song # 1 – Place 3
Russia at the Eurovision Song Contest: Overview