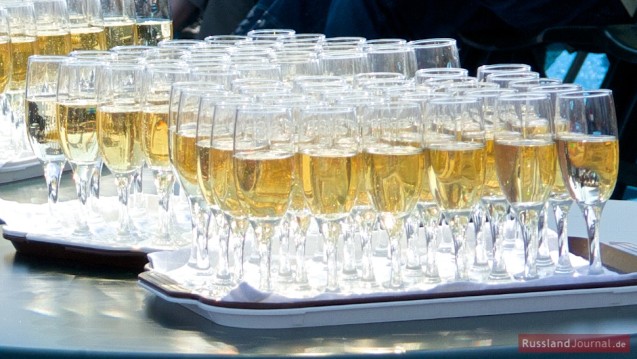 40 Russian drinking toasts for different occasions. Short and long universal toasts. Special toasts for birthday, wedding, New Year Eve and Women's Day. Some Russian drinking toasts consist just of one or two words. So you don't have to pronounce a speech to impress your Russian friends or colleagues.
Cheers in Russian
The famous toast Nostrovia! is not a drinking toast at all. In Russian, it doesn't mean "Cheers!". It is used as a reply to thank someone for a meal or a drink.
Russian drinking toasts are formed with the preposition ЗА [za] (here it means "TO") + word in the accusative case
The Russian equivalent for Cheers! is За здоровье! [za zda-ró-vye].
Literally it means: "To your health!". The Russian word for'health' is 'здоровье' [zda-ró-vye].
The Russians sometimes drop the preposition 'to' and say just:
Advertisement
Ваше здоровье! - [vashee zda-ró-vye] – Your health!
(being polite or addressing a group of people)
Твоё здоровье! - [tva-jó zda-ró-vye] – Your health! (informal)
In Russia, you often drink to your own health and say "Будем здоровы!" [bóo-deem zda-ró-vye"], which can be translated as "To our health!"
On special occasions the Russians often hold a long or a short speech giving a good reason for drinking.
Simple Drinking Toasts
English

Russian with Transcription

To you! / To you (formal)!
За тебя / За вас!
[za tee-byá / za vas]
To your health! /
To your health! (formal)
За твоё здоровье!
[za tva-jó zda-ró-vye]
За ваше здоровье!
[za vashee zda-ró-vye]
To our meeting!
За встречу!
[za fstryé-tchoo]
To our friendship!
За нашу дружбу!
[za ná-shoo dróo-zhboo]
To the hostess!
За хозяйку этого дома!
[za ha-syáj-koo é-ta-wa dó-ma]
To women!
За женщин!
[za zhén-shsheen]
To love!
За любовь!
[za lyoo-bóf]
To our parents!
За родителей!
[za ra-dée-tye-ley]
Let's get started!
Поехали!
[pa-yé-kha-lee]
One for the road!
На посошок!
[na pa-sa-shók]
"Поехали!" is a very colloquial expression which can be used at a vodka party, but not when enjoying a glass of wine.
More Drinking Toasts
Let us drink to the success of our project / business!
Russian: Давайте выпьем за успех нашего дела!
May we always have a reason for a party!
Russian: Выпьем за то, чтобы у нас всегда был повод для праздника!
May we suffer as much sorrow as drops of wine we are about to leave in our glasses!
Russian: Давайте выпьем за то, чтобы мы испытали столько горя, сколько капель вина останется в наших бокалах!
Let us always enjoy life the way we enjoy this glass of wine!
Russian: Давайте всегда наслаждаться жизнью, как этим бокалом вина!
To our get-together! May we meet up more often!
Russian: Выпьем за то, что мы здесь собрались, и чтобы чаще собирались!
Birthday Toasts
To the birthday girl! / To the birthday boy! Happy Birthday!
Russian: За именинницу (f)/ именинника (m)! С днем рождения!
May you never have bitter moments, hear salty jokes or see sours smiles. Let's drink to the sweet sides of life!
Russian: Пусть в твоей жизни не будет горьких минут, солёных шуток и кислых улыбок. Выпьем за сладкие стороны жизни!
I wish you piles of money, a sea of love and lots of time to enjoy it! Happy Birthday!
Russian: Я желаю тебе кучу денег, море любви и уйму времени, чтобы насладиться этим! Поздравляю с днем рождения!
May your dreams come true not only on your birthday!
Russian: Выпьем за то, чтобы мечты исполнялись не только в день рожденья!
Life does not always go according to plan. I, for example, wanted to be the first to congratulate you today, but I didn't manage. Hope you are pleased to hear my wishes anyway. May you always be in the right place at the right time! Happy Birthday!
Russian: Жизнь не всегда идет по плану. Я, например, хотел сегодня поздравить тебя первым, но не получилось. Надеюсь, тебе всё равно приятно. Выпьем за то, чтобы ты всегда оказывался в нужное время в нужном месте. Поздравляю!
Wedding Toasts
Gorka!
Russian: Горько! [gór-ka]
The word "Горько!" is very typical for Russian weddings. It literally means "bitter". In Russia the newly-weds have to kiss if someone calls "Горько!"
To the newly-weds!
Russian: За новобрачных! - [za na-va-brá-tchnyh]
To the bride and groom!
Russian: За жениха и невесту! -
[za zhe-nee-há ee nee-vyé-stoo]
To the beautiful bride!
Russian: За красавицу невесту! -
[za kra-sá-vee-tsoo nee-vyé-stoo]
Let's drink to love! Gorka!
Russian: Выпьем за любовь! Горько! -
[vý-pyim za lyoo-bóf. Gór-ka]
Dear newly-weds, live your whole life as if you've just got married!
May the happy star that brought you together shine on you for many, many years. Let us raise our glasses to the newly-weds and their happy future!
There is a wisdom saying that the wife is the heart and the husband is the head of a good marriage. May you never suffer a heart attack or have a headache!
Dear bride and groom, today you celebrate your first wedding. May it be your last one!
After the wedding a husband says to his wife:
- Dear, I've forgotten telling you that I have a big problem – I often get jealous without any reason.
The wife replies:
- Don't worry, dear! You won't be jealous of me… without a reason.
May you never have serious reasons to be jealous and never get jealous without a reason!
May your children have happy and rich parents!
New Year's Eve Toasts
Everyone raise their glasses toasting friends and family on the New Year's Eve. Here are some inspirations for a great toast:
The Russians believe that the coming year is going to be as good or bad as the New Year's Eve. May this year be as happy as this party!
May this year bring us as many nice surprises as there are lights in all Christmas trees of the city!
Let us raise our glasses to the Grandfather Frost (Ded Moroz) and his granddaughter Snegurotchka! They never get old or sick and always have enough money for presents! May we be like them!
Don't miss the chance to learn a bit of Russian:
Language Exercise: Christmas and New Year
Drinking Toasts for the Women's Day, 8 March
When the Russians get together at a dinner table on 8 March, the International Women's Day, they raise their glasses to women and come up with a nice toast. Here are some examples:
Women are responsible for the best and worst moments in men's life. But to live means to go through good and bad times. So let us drink to women who bring us joy and trouble making us alive!
Love and happiness are more important than most expensive gifts. May the eyes of our women be always lit with delight!
I am raising my glass to this wonderful holiday. May spring breathe new life into the world around us and into our souls! Let us get inebriated by the delicate scent of fresh flowers as we get inebriated by this drink and enjoy life!
Wisdom says: "If you want to make the right decision, ask your wife for advice and do the opposite." Let us drink to women who always help us make best decisions!
Don't miss the chance to learn a bit of Russian:
Language Exercise: Women's Day