Matryoshka (Babushka) Eggs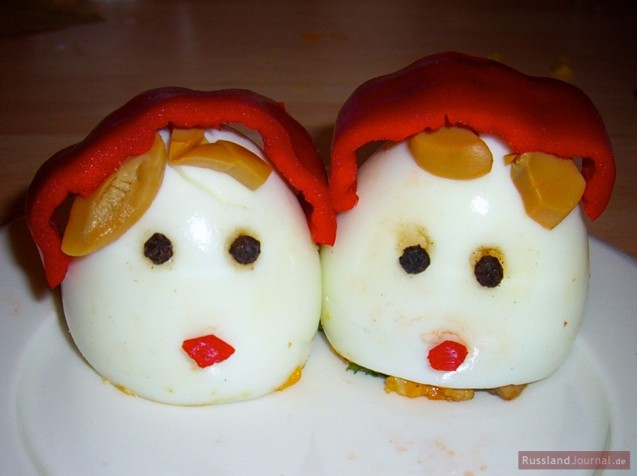 Nesting doll Matryoshka is one of the most recognizable symbols of Russia. This funny appetizer is not only delicious, but also decorative and gives a party a Russian touch. To arrange the boiled eggs and decorate them as Matryoshka, carefully cut off at the wide end. For a sophisticate variation the eyes can be made of caviar.
Ingredients

| | |
| --- | --- |
| 6 | Eggs |
| 50 g (=1.7 oz) | cooked ham |
| 4-5 | mushrooms |
| 1 | onion |
| 2 | red sweet peppers |
| 12 | black peppercorns |
| | butter |
| | salt, pepper |
Directions
Advertisement
Hard boil the eggs, cool them using cold water and remove the shells. Cut the flat end off and carefully remove the yolk. Put egg yolks in a bowl and mash with a folk.
Clean onions and mushrooms. Chop finely. Save a couple of longer mushroom pieces to make matryoshka's hair later.
Clean red pepper, remove seeds and membranes. Save 6 big pieces for matryoshkas' headscarves and 6 small pieces to make the lips. Chop the rest finely.
Chop cooked ham finely.
Melt butter in a preheated pan. Sauté onions, mushrooms, red pepper and cooked ham until tender.
Add into the bowl with mashed egg yolks and mix well together. Season with salt and pepper to taste.
Carefully stuff the mixture into the egg whites. Don't let the "skins" tear!
Place stuffed eggs on a plate and decorate as matryoshkas. Use black peppercorns as eyes, big red pepper pieces as headscarves, small red pepper pieces as lips and mushroom pieces as hair.
Variations
For specials occasions use caviar as eyes.
Use gelatine or raw egg white to attach the decoration.
Use pieces of white or red cabbage leaves as headscarves.
Other egg recipes
Russian recipes
Salads and Appetizers
Recipes for Russian salads, Mushroom Caviar, Russian eggs, etc.
Soups and stews
Borsch, Solyanka, Shchi and more recipes.
Main Dishes
Recipes for Russian pancakes (bliny), pelmeni, fish and meat recipes.
Grilling and BBQ
Shashlik recipes for Caucasian style barbecue.
Baking
Recipes for Russian pierogi, Vatrushki, an apple pie and cakes
Drinks
Recipes for Kwaß and Cranberry Water with Honey
Russian cuisine
Cabbage - cooking tipps and recipes.
Russian Easter Feast - Russian Easter recipes