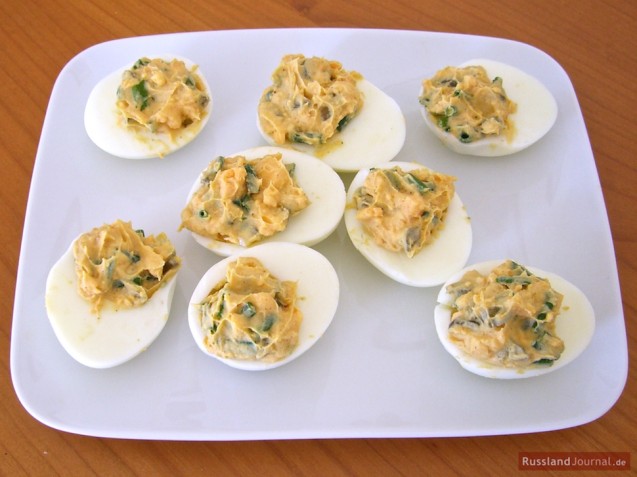 Hard-boiled eggs stuffed with a slightly spicy filling of pickled cucumber is a popular appetizer in Russia. Quick and easy to prepare, Russian eggs are perfect as finger food for any occasion. The recipe is easily adaptable to individual tastes by adding extra ingredients such as mushrooms, sautéed onions, ham or fish.
Ingredients

| | |
| --- | --- |
| 4 | eggs |
| 1 | small pickled cucumber |
| 1/2 tbsp | mayonnaise |
| 1/2 tbsp | mustard |
| 2 tbsp | chives |
| | Salt, pepper |
Advertisement
Directions
Hard boil the eggs, cool them using cold water, remove the shells and cut in halves.
Carefully remove the yolks and mash them with a folk.
Chop finely pickled cucumber and chives.
Mix well mayonnaise, mustard, chopped cucumber, chives and mashed egg yolks. Season with salt and pepper to taste.
Carefully stuff egg halves with the mixture and serve.
Other egg recipes
Russian recipes
Salads and Appetizers
Recipes for Russian salads, Mushroom Caviar, Russian eggs, etc.
Soups and stews
Borsch, Solyanka, Shchi and more recipes.
Main Dishes
Recipes for Russian pancakes (bliny), pelmeni, fish and meat recipes.
Grilling and BBQ
Shashlik recipes for Caucasian style barbecue.
Baking
Recipes for Russian pierogi, Vatrushki, an apple pie and cakes
Drinks
Recipes for Kwaß and Cranberry Water with Honey
Russian cuisine
Cabbage - cooking tipps and recipes.
Russian Easter Feast - Russian Easter recipes