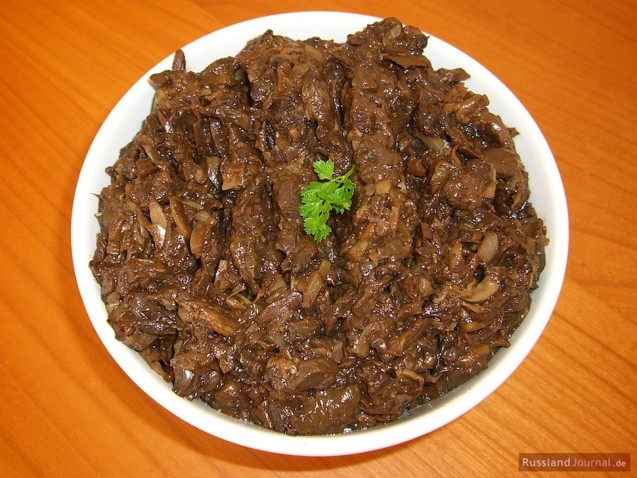 Mushroom caviar is made of dried mushrooms. The mix should contain porcini mushrooms. It is possible to cook this caviar using fresh mushrooms available in season like chanterelle, armillaria or porcini mushrooms that are very popular in Russia. Mushroom caviar can be used in many different ways, for example, as bread spread, stuffing for eggs or to spice up soups and stews.
Ingredients

| | |
| --- | --- |
| 4.25 oz | dried mushrooms |
| 1 | big onion |
| 4 tbsp | sunflower oil |
| 2 | big garlic cloves |
| 2 tbsp | 5% vinegar |
| | salt, pepper |
Advertisement
Directions
1. Wash mushrooms, put in cold water and let soak for 2-3 hours. The mushrooms should be covered with water, but don't swim in it.
2. Drain the soaking water off and save. Rinse and finely chop mushrooms.
3. Put chopped mushrooms in the saved soaking water, bring to boil and simmer until the water has evaporated and the mushrooms are tender.
4. Finely chop onions and sauté until translucent.
5. Let mushrooms cool down. Add onions, pressed garlic, vinegar, sunflower oil, salt and pepper mixing well. Serve cold.
Serving ideas
1. Cut big tomatoes in halves, remove stems and seeds and fill with mushroom caviar.
2. Mushroom caviar tastes great with small blintz (olady)
Russian recipes
Salads and Appetizers
Recipes for Russian salads, Mushroom Caviar, Russian eggs, etc.
Soups and stews
Borsch, Solyanka, Shchi and more recipes.
Main Dishes
Recipes for Russian pancakes (bliny), pelmeni, fish and meat recipes.
Grilling and BBQ
Shashlik recipes for Caucasian style barbecue.
Baking
Recipes for Russian pierogi, Vatrushki, an apple pie and cakes
Drinks
Recipes for Kwaß and Cranberry Water with Honey
Russian cuisine
Cabbage - cooking tipps and recipes.
Russian Easter Feast - Russian Easter recipes